Author: Reshama Shaikh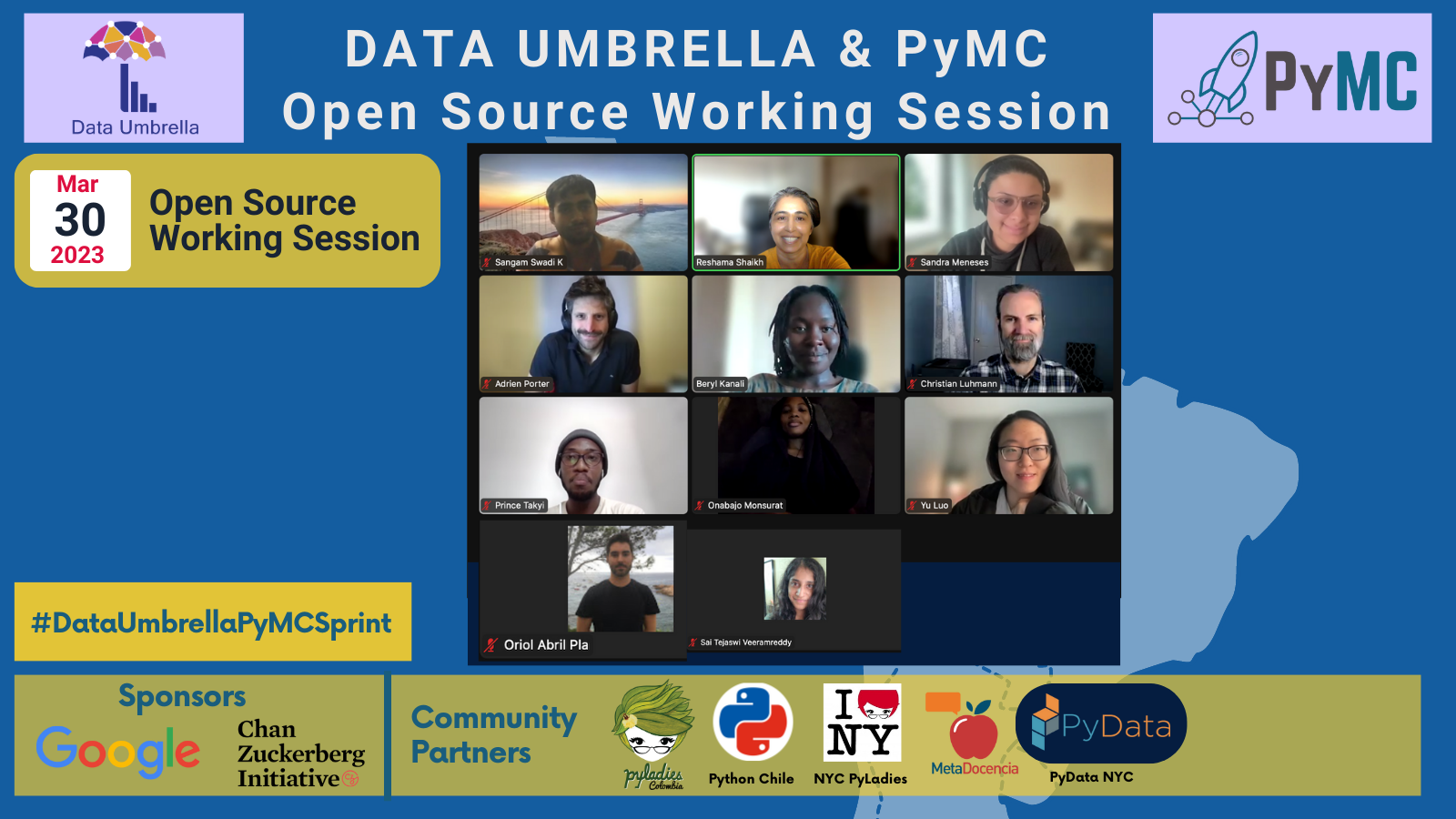 Key Information
High Level Summary
Number of participants who:
Registered: 19
Attended: 9 (4 women; 5 men)
Mentors: 6 (3 women; 3 men)
Countries represented: 9
| Group | Number of People | Gender | Country |
| --- | --- | --- | --- |
| Data Umbrella | 2 (Beryl, Sangam) | W, M | Kenya, India |
| Data Umbrella & PyMC | 2 (Reshama, Sandra) | W, W | USA, Germany |
| PyMC | 2 (Oriol, Christian) | M, M | Spain, USA |
| Community Members | 9 | 5M, 4W | USA (5), Canada, France, Ghana, Nigeria |
Background
The PyMC open source working session was organized by Data Umbrella to increase the participation of underrepresented persons in open source, python and data science.
Event Sponsors
This event was supported by: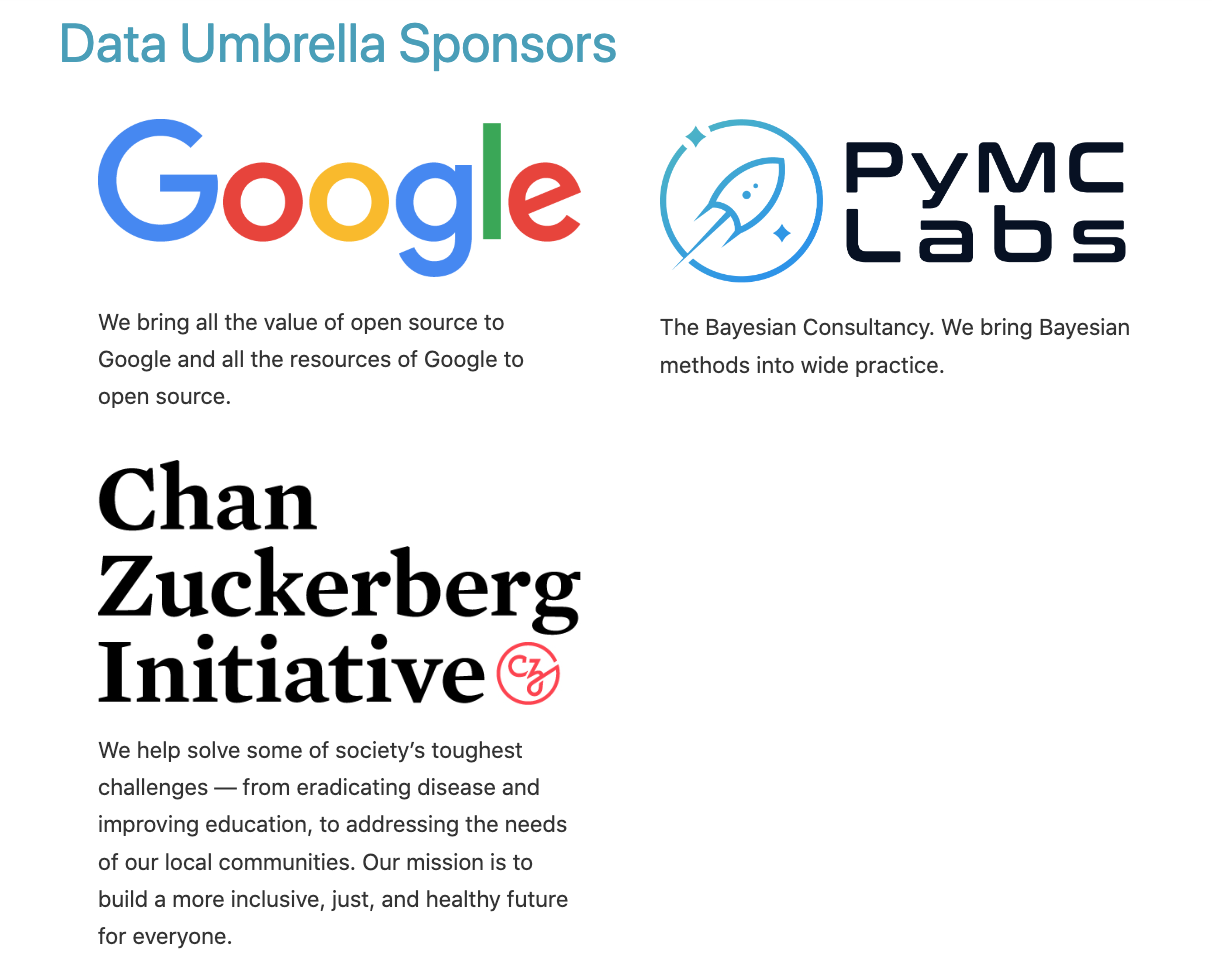 Pull Requests Submitted
Add contributor info to event website
@symeneses, @alporter08 pymc-data-umbrella PR#219 (merged)
@reshamas, @vsaitejaswie pymc-data-umbrella PR#221 (merged)
@SangamSwadiK, @iykat pymc-data-umbrella PR#224 (merged)
Doc / Code contributions
@SangamSwadiK, @iykat pymc PR#6635 (merged)
@symeneses, @alporter08 pymc PR#6638 (merged)
@BerylKanali, @Monsurat-Onabajo pymc-examples PR#538 (merged)
@iykat pymc PR#6635 (open)
@daniel-saunders-phil [pymc PR#6609](https://github.com/pymc-devs/pymc/pull/6609 (open) joined April 2023 study group
Resources Created for the Sprint
Gitpod
Ben Meares of the PyMC Team set up a Gitpod container for the pymc repository.
Sangam SwadiK tested the Gitpod container.
Reshama Shaikh wrote up instructions, Using Gitpot to Contribute to PyMC.
Reshama Shaikh created a video on How to Contribute to PyMC Using Gitpod.
Website Translations
Oriol Abril Pla and Sandra Yojana Meneses worked together to set up the event website so it could be translated using the platform Transifex.
Reshama Shaikh wrote up Language Instructions so contributors could submit translations using Transifex.
Website Translators
We would like to thank all the community members who contributed to translating the website to Spanish or Portuguese:
Sandra Yojana Meneses
Cristina Mulas Lopez
Ariel Silvio Norberto Ramos
Alberto Mario Ceballos-Arroyo
Jose Rafael Camejo
Juliana Almeida
Cristián Maureira-Fredes
Anavelyz Perez
César Herrera
Barbara Graniello Batlle
Cristina Zenteno
Leonardo Gomez
Pair Programming
Participants worked in pairs. We paired experienced contributors with new contributors.
Event Info
No participants joined from Latin America, though ~10 people from Latin American did register for the event.
We expect that the website translations, particularly in Spanish, will be beneficial for the community, even after this event.
What's Next: Maintaining the Momentum
We have already seen a few event participants continue to contribute after the event.
We hope to maintain the momentum by holding casual monthly "study groups" on Discord to continue contributing to PyMC.
Social Media Promotion
Below are some of the social media announcements on the open source working sessions.
Twitter (English)
🧵
📣Join us: *online* working session to contribute to @pymc_devs #oss
👉🏽with a focus on underrepresented persons in #DataScience & Latin America
🗓️ Mar 30, 2023: 15-18:00 UTC

Submit a registration form:https://t.co/ex9GnULvGl pic.twitter.com/xQRlivsW3o

— Data Umbrella (@DataUmbrella) March 2, 2023
LinkedIn (English)
Acknowledgments
We thank the Data Umbrella & PyMC organizers who created the website, created event documents, conducted outreach, marketing and so much more!
Reshama Shaikh
Beryl Kanali
Sandra Meneses
Cristina Mulas Lopez
Christian Luhmann
Oriol Abril Pla
Sangam SwadiK
References
Addendum
[no addendums or updates at the time of publication]